Post by spannernick on Feb 14, 2020 18:10:28 GMT
***PCU - Project Carousel USB Anniversary Edition***By Spannernick, RetroNuts on YouTube,Original idea by FaberfoX, script by Spannernick/jj0 and Fake Update by jj0, raxrip and cyanic, Load Carousel Games from USB Stick with Carousel Gamelist Screens, Boot THEC64 X-Windows Mod by jj0,
JIFFYDOS 6 included, New Soundtrack Now Included, For THEC64 Mini/Maxi.
This is free for non commercial use, NOT FOR SELL. This Project was created by Spannernick, Retronuts on Youtube, Feb 14, 2020
Version 1.19
Development
Version released.
This is a English Project only.Please do not asks about other languages cause there will be none added.

Updated 19 October 2020.Like to thank all the people that has helped out with this project.. You know who you are...
.. A BIG Thank You.Happy 2 year anniversary to THEC64 Mini(USA) ...

October 9, 2018 to October 9, 2020Hopefully we will still be using these machines on its 10th Anniversary in 2028..

We will be... C64 Forever and Ever..

To Download Project Carousel USB and Instruction Manual
click here


I will be updating the Instruction manual from now on and leaving this the way it is, I will change it when a new version came out but all info will be in the manual now, Instruction Manual has just been updated(19 October 2020)
PLEASE
try and read the Instruction Manual for
PCU v1.19 Anniversary Edition
cause things have changed a lot from PCUv1.17.
THEC64 X-Windows Mod is not included
, you need to download its
rootft.img
and put it into
/carousel_games/options/x-windows mod/
folder otherwise
CTRL-F7
will just restart the Carousel.

I have been working hard on the code to get this working properly, Hope you like it...



About The Games Included<-------------------------------->I added the games to PCU because they came with the True Blue Mini C64 originally, they were charging for the games that they don't own the IP for or rights too, and saw that as wrong and then added them to PCU for free.It would be very hard to split them from PCU now cause PCU has Carousel Gamelist Screens so there would be no point.If you want to use the games please make sure you own them already, well if you have a original C64 like me, most of the games you will have already on the C64 or on another platform,
I put this up to let uses know why PCU includes games.
All games have now been sorted and are all compressed VSF now(vsf.gz).
About Project Carousel USB
<-------------------------------->PCU 1.19 is a development version cause I have tested it here and it works fine but not with other THEC64 so this version is for you to test and see it it runs ok on your THEC64, any problems post back here.
PCUv1.19 uses a Loop Device now that not used on older versions so it needs to calculate the size of the USB Flash Drive your using and if it can't, then THEC64 will not be able to read the USB flash Drive and stop PCU from autobooting and you will not be able to run it with the update included too cause it will not be able to mount the USB Flash Drive or SD Card.
It should now
hopefully
work with most USB Sticks.
This will change the location of the C64 Games from the firmware in the Carousel to the USB Flash Drive, and able to add more games easily(Thanks goes to FaberfoX for the idea and his Carousel USB Chooser, that's where part of the name came from and "Project" came from Mod My Classic so it became "Project Carousel USB"..

).This will not harm your THEC64 Mini/Maxi at all, everything is run from a USB Flash Drive(USB Stick or a SD card and USB SD Card reader) so its non intrusive, you do run fake updates for it to work but they point to a script on the USB Flash Drive, nothing is copied to the firmware, nothing is run from the firmware, when you turn it off and back on, it back how it was when you started PCU,the Carousel showing the games from the firmware.It will copy the S95pcuboot file to the firmware's int.d folder,(and thats it, all the other files run from the USB Drive) you are able to turn on THEC64 and it start PCU for you automatically, you can stop this, if you want but only if you have not started PCUv1.18 for the first time, look further down to find out how, if you do not want PCUv1.18 to start by itself or boot by itself.

You have to run PCUv1.18 with the updated included first but after that you will not need to any more, if you want to play the firmware games or get into the firmware's Carousel then all you do it take out the USB stick /drive and turn on THEC64 and the firmware's Carousel will start up.

PLEASE DO NOT RUN ANY OFFICAL UPDATES FROM RGL WHEN PCUv1.18 IS RUNNING, IT WILL UPDATE AND REPLACE THE CAROUSEL IN PCU ONLY, (INCLUDING UPDATES MADE BY THEC64 MAXI GAME TOOL, YOU DO NOT NEED TO MAKE THEM IF YOUR USING PCU), ONLY RUN THEM WITHIN THE FIRMWARE CAROUSEL RUNNING, DISABLE startpcu.sh in \Carousel_Games\Options\boot\ BY RENAMING IT TO startpcu.sh.bak or USE A DRIFFERENT USB FLASH DRIVE TO UPDATE THEC64.
Please no more ideas for now, but thank you.Please report a bug if you come
across
any, I do not find every bug..

so there still might be some.
Ploylab has copied this project so PLEASE do NOT buy.. TRUE BLUE Mini C64, this is free to download and use and always will be.. Thanks for your support.. This is what the TRUE BLUE MINI C64 looks like.
.
(I might add stuff to this from time to time where I forgot to add something..

or might remove stuff if its getting to big.)

<---------------------------------------------------------------------------------------------------------------------------------------------------------------------------------------------------------------------------->

***IMPORTANT MAC USERS PLEASE READ***
It sounds like members are having problems copying PCU using MacOS, PCU has been made on a PC so all the files are zipped up using Windows 10, if you copy it to your USB Flash Drive with a MAC then you will have problems starting PCU, cause it adds extra files to the USB Flash Drive when copying it over.

These posts here will help you sort that out and remove them,
PLEASE
look at them first before downloading PCU...
thec64community.online/post/4697
thec64community.online/post/4698
<---------------------------------------------------------------------------------------------------------------------------------------------->
The music that on the VIC20 Carousel is made by Boray and he gave me

permission

to use it,
It from his album called "Always the same Never the same" and you can listen to with on a VIC20 with a SD2IEC
I was looking for music for the VIC20 to use on its CGS and came across this album..

Videos of PCU V1.18 Anniversary Edition
When you run PCU v1.9 for the first time and restart THEC64 it will Autoload PCU for you so you don't need to start it with the Update anymore, you can disable if you like too, look in the Instruction Manual for more info.

Remember.. You can add other games as well by putting them in the folder called "extragames" so if you want to play a game that you can't add to the Carousel cause it has 2 Disks or 2 Sided Disks and Tapes, you can use FIBA too but only in Ye Olde Carousel v1.0.5, it don't work in Carousel v1.3.2 and you need to start Ye Olde Carouselv1.0.5 from with in the Carousel Gamelist Screen Favorites.
Each Carousel Gamelist Screen can hold about 225 games, about 678 games in 3 screens.

This is the closes you will get to something like Project Lunar by MMC that's on the Sega Mega Drive and are able to load games in m2engage from a USB Flash Drive but you can only load games for the Commodore 64 or the VIC 20(VC 20) (THEC64 Maxi Only) in the Carousel and nothing is copied to the firmware, all the magic stuff is all on the USB Flash Drive, you just run the fake update included from System Information page on THEC64 Mini or Maxi to run PCU once and that it, Autoboot will then take over and boot PCU when you turn on THEC64.
All games have now been sorted out and are all snapshots, thanks go to
lantzelot
for doing this for us..

Please do not mix the games up from another version or you will have
doubles
in the Carousel
Gamelist
Screens in PCU.
The games are in 5 folders now 0_fav, 0 to G, H to R, S to Z, and VIC20(VIC20 added cause a version of it is coming out in October 2020 called THEVIC20) it can hold up to 900 games in PCU not including the 0_fav folder and 225 games per Carousel Gamelist Screen(I can add more Carousel Gamelist Screens if you want, the idea came from The True Blue Mini C64 but too many will be to time communing to go through, will properly not be adding more game folders, I might in the future.

To change Carousel Gamelist Screens Press CTRL and a number that connected to that Carousel Gamelist Screen, you can now load up any screen in any order.

You can now as well pick what Carousel Gamelist Screen boots up first, look further down for more details..

Games are in Carousel_Games/Games/ folder... There is no need to hide the folders now.

Carousel Gamelist Screen Favorites--> /0_fav/games
Carousel Gamelist Screen 0 TO G--> /0 to G/games
Carousel Gamelist Screen H TO R--> /H to R/games
Carousel Gamelist Screen S TO Z--> /S to Z/games
Carousel Gamelist Screen VIC 20--> /VIC20/games


***WARNING*** DO NOT TOUCH THE SETTINGS and SAVE Folder for Ye Olde Carousel v1.0.5, YOU CAN MAKE THEC64 Mini/Maxi have a BLACK SCREEN and STOP the Carousel loading up***
PLEASE
try and read this before using
PCU v1.18 Anniversary Edition cause things have changed
.
Getting a Black Screen with Ye Olde Carousel v1.0.5
<------------------------------------------------------------------>
If you getting a black screen when you try a load Ye Olde Carousel by CTRL-F1, you need to reset the Carousel settings by going to \Carousel_Games\Options\thecarousel\profile2\0\ folder and
deleting
the settings.dat file, when you run
Ye Olde Carousel
again with CTRL-F1 it should load up and made a new settings.dat file for your THEC64,
Ye Olde Carousel
is running in 50hz and if your THEC64 is running at 60hz it will show a black screen, this will not happen if THEC64 is running
already
at 50hz cause it
already
set up to run on a THEC64 Mini PAL machine. Deleting the settings.dat file make the Carousel see what machine its running on 50 or 60hz then sets it at that PAL or NTSC.Options in the scripts to enable or disable things, so read carefully or read several times if you have too, they are in the
autostart.sh
script now.
Carousel Gamelist Switcher
has now been removed cause the
Carousel Gamelist Screens
are been controlled by shortcut keys on the keyboard now and has a new script called
Carousel Gamelist
Selector that allows you to press
CTRL
and a number on the keyboard to change screens, it works on THEC64 Mini with any keyboard and on THEC64 Maxi.When using PCU on THEC64 Mini make sure that the keyboard is plugged in first before you start PCU otherwise the keyboard shortcuts will not work, it need to find the keyboard as the first device
that's
connected.

You can use THEC64 X-Windows Mod but its not included, thec64community.online/thread/487/thec64-windows-mod
Just Press CTRL-F5 to start THEC64 X-Windows Mod, info above on how to add it rootfs.img file to PCU.Here is a picture of it...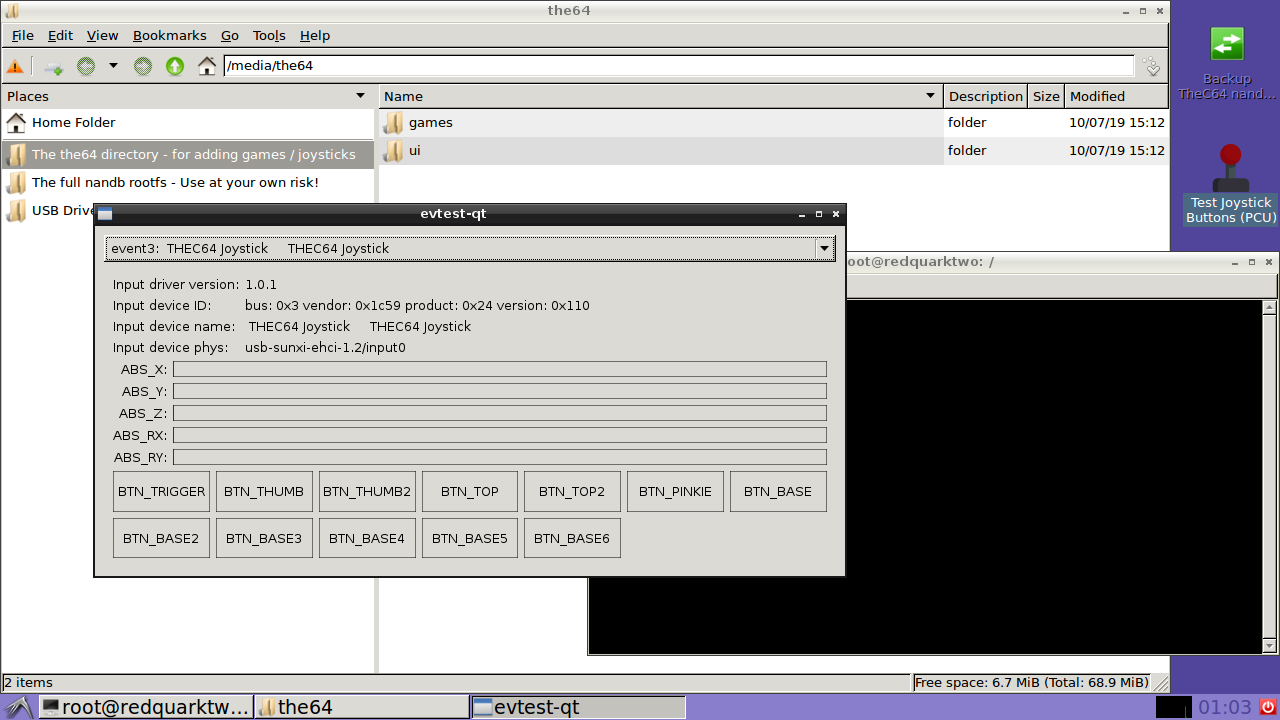 Thanks goes to Franky-Byte for the Carousel Gamelist Screen covers, now you will know what Gamelist Screen your on..

and on the LOADING screens, Why didn't I think of it..

(I have changed the covers a bit using Adobe Photoshop, they look a lot better now)
But there is a price to pay for using them, you can only fit 225 not 226 games cause this takes up a game slot in the Carousel, each Carousel Gamelist Screen now only has 225 games slots available, edited them with photoshop to get them to look better..

----------------------------------------------------------------------------------------------------------------------------------------------------------------------------------------------------------------------------------------------
Carousel Gamelist Screens
------------------------------
Each screen has its own soundtrack now
Pictures were taken before Franky-Byte Gamelist Screens were added.(Will update them soon)
0 TO G Carousel Gamelist Screen
H TO R Carousel Gamelist Screen
S TO Z Carousel Gamelist Screen
How to use THEC64 Maxi Game Tool with Project Carousel USB
It is now included in the folders... /Carousel_Games/0 to G, H to R and S to Z, TMGT is in each folder now, double click on TheC64MaxiGameTool.exe to run it from that folder when the USB Flash Drive is plugged in to your PC so you can add or change games in the games folder on the USB Flash Drive, PLEASE DO NOT USE THE MAKE FW BUTION, just use Add, Edit and Delete buttons and you will be able to Edit or Delete or Add new C64 Games and they will be added to the games folder or remove them using the Delete button.
VICE 2.4 is included too, VICE is there so you can make snapshot files of the C64/Vic 20 Games you want to add(pressing the VICE button) you can even play the C64 games on the Carousel in the THEC64 Maxi Game Tool by clicking twice on its game cover, to test to see if that game works OK, just click on one of the Covers of the C64 games.
When adding or editing a game, when you close TheC64 Maxi Game Tool it will come up with a Warning saying if you close it, it will not save the changes to the games its added or edited, that's just if you making a firmware update to send to THEC64 Mini/Maxi so please ignore the warning. DO NOT press MAKE CFW Button, no need too.(it adds the games or edits them straight away to the Games folder so changes happen instantly.)
After you finished what you want to do,
Close THEC64 Maxi Game Tool then Eject the USB Stick so you don't corrupt it
, you have to close THEC64 Maxi Game Tool first otherwise you can't Eject the USB Stick.

How to Add a new gamename.tsg file Using the old gamename.tsg file using TheC64 Maxi Game Tool.
-------------------------------------------------------------------------------------------------------------------------------
The C64 Maxi Game Tool has a habit of coming up with a error if you try and edit a .tsg file that was not made by it,(by adding -ms to the tsg file like gamename-ms.tsg) this will help you bypass the error and made a new .tsg game file that's
compatible
with TheC64 Maxi Game Tool.
Make a folder on the USB in 0 to G/games called Other Games and cut and paste the gamename.tsg file you want to change from the 0 to G/games folder to the Other Games folder.
Open gamename.tsg up with Notepad that in the Other Games folder so you can see inside it and able to read it, now start TCMGT(TheC64 Maxi Game Tool) in 0 to G folder and click Add and copy everything from the gamename.tsg file to the Add game box then click on OK when you have finished, that game is now added with a new gamename.tsg and has a proper name.
Now double click on the game you just added to TCMGT to run it in Vice and wait for the game to load up and then bypassing the crack screen and then click on snapshot (when you see the game menu) on the VICE menu(top menu)and click on Save snapshot and tick the 2 tick boxes(Save currently attached disk images, Save currently attached ROM images)at the bottom of the Save snapshot image box and name it whatever you like then click Save button to save the snapshot and remember where you saved it too, now close Vice, click on Edit button(TCMGT) on the game you just added and add the snapshot you made in Vice to "File Path... Game" on the Edit game box and click on the button with the 3 dots(...) next to it "Game" to add the snapshot to add the snapshot you made in Vice and click on OK button to finish..
Done..

Once your finished with the tsg files in the Other Games folder, just delete the tsg files from that folder once you are finished with them.
Now you can edit the game with TCMGT anytime you want.
Here is a picture of TheC64 Maxi Game Tool reading from the games folder (this is a old picture before Carousel Gamelist Screen was made)on USB Stick(K:)



THEC64 Maxi Game Tool Reading from the Carousel_Games folder.
------------------------------------------------------------------------------------------------------------------------------------------------------------------
----------------------------------------------------------------------------------------------------------------------------------------------------------------