Post by jj0 on Feb 2, 2020 15:37:26 GMT
Update: Link updated to TheC64-X-Windows v2.zip - v1 had an incorrect backup script.

This file
is a custom firmware upgrade for the Mini and the Maxi that rather than upgrade something instead starts an X-Windows session, allowing you to copy games, edit files like gamecotrollerdb.txt etc using a graphical desktop: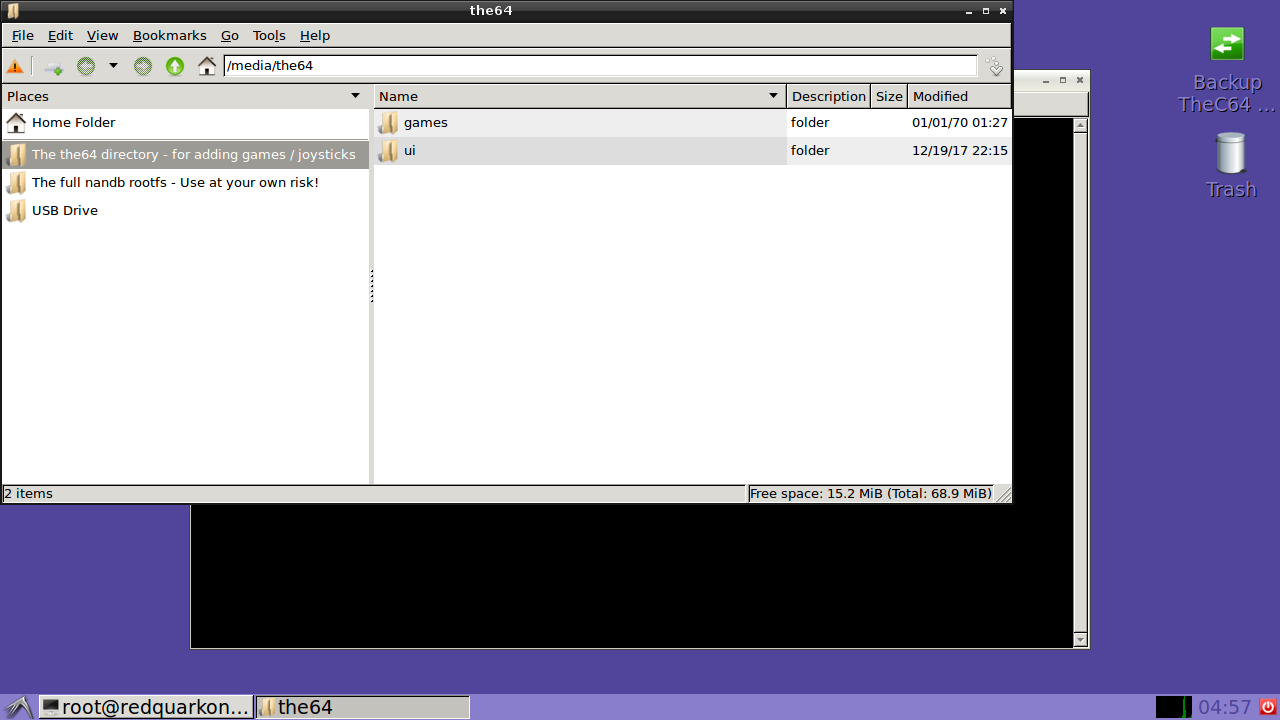 It will startup with a file manager with bookmarks to the '/usr/shares/the64' directory, the full rootfs and the USB disk, and also a terminal window.
In addition there's an icon on the Desktop to backup the nand and the 'usr/shares/the64' files to the USB disk, to a backup directory. It creates new copies every time you run it.
To quit and get back to theTheC64 mode logout use the red 'switch off' logout button.
You need a keyboard and mouse attached to the TheC64 though the Maxi's keyboard works as keyboard.
To use it, unzip the
zipfile
to an USB disk that you know works on TheC64, e.g. that you already know the TheC64 can load games from. It needs to be 2GB or more. Then go to the System Information menu where you can 'upgrade'. This will start the X-Windows session, depending on the speed of your USB disk it can take some time to start.
There are some graphical glitches with the application windows not refreshing, if you encounter this minimise and then maximise the window and it will be redrawn ok.
The rootfs image itself is a copy of the
Olimex A20 Lime
rootfs. Remember that TheC64 has very little memory (and doesn't support a swapfile) so memory-hungry applications won't run. And obviously there's no network.
Use at your own risk. Make a backup first. I'm not responsible for anyone bricking his/her TheC64 by using this.
Thanks to both
cyanic
and
raxrip
who created the firmware unpacker/packer that makes this possible.
A brief overview of how to add/change things on the rootfs image:
From the TheC64:
In 'start.sh' on the USB drive change the 'mount -o ro /mnt/rootfs.img /tmp/chroot' to 'mount -o rw /mnt/rootfs.img /tmp/chroot' to make it writable
Put any stuff you want to change/add also on the USB dirve, e.g.background image, software packages. For software packages you need do download the corresponding .deb package for Debian Jessie
Run the 'update' on the TheC64. The rootfs image is now read/write so you can make any changes you want. To install a .deb package do 'dpkg -i xxxx.deb'
From a PC running Linux:
Mount (a copy of) the rootfs.img on a suitable directory, e.g. sudo 'mount rootfs.img /mnt'
You need to have systemd-nspawn, qemu-user-static installed and possibly binfmt installed
If you want to run X-Windows programs from the rootfs and have them displayed on your PC's screen, then from a normal terminal window on your PC do:
# xhost +
access control disabled, clients can connect from any host
# echo $DISPLAY
:1

Start a root command-line session from the rootfs image: 'sudo systemd-nspawn -D /mnt'
Do:
export DISPLAY=<$DISPLAY from above>

You can now edit the filesystem and also install packgages with apt-get and should have a normal network connection
Some X programs will run on your screen, e.g. 'xclock'. But many others won't.
Instead of using systemd-nspawn you might also be able to use Docker or qumu
After logging out of the session do a 'sudo umount /mnt' and copy the rootfs image back to the USB drive for use on the TheC64

If you don't have a PC running linux you can also do it from an Ubuntu 'live' install usb disk.

Note that the X-Windows session is running as root but with $HOME set to the non-root user home direcoty '/home/olimex' so not 100% standard. Also no other services from the rootfs are running.