Post by spannernick on Apr 25, 2018 18:09:28 GMT
W walnutwhip21 days ago
oldskool thats the problem with using pads.
the buttons are all over the place.
this machine really needs a way to remap buttons.
infact this machine needs a lot of stuff added to its firmware.
tomxp411, Banjo, Braindome, and 2 others like this.
PantherUK21 days ago
Hyperkin megadrive/genesis usb pad works well, no issues on a quick test...
spinal21 days ago
iBuffalo works fine.
SirGeldi21 days ago
Surprisingly my giant sanwa modded Mayflash Xbox 360/PS3/PC Arcade Fighting Stick V2 works flawless.
T thash1zn1t21 days ago
USB to DB9 adaptor by retrofun! with a zipstick joystick didn't work
L lroby7420 days ago
I am using a Lioncast joystick arcade, this one has 2 different plugs, you can use USB if playing only alone or can use PSX Plug of same joystick if used with a PSX Gamepad splitter that permit to choose if use port 1 or port 2 on games

(and permit to connect 2 joystick together)
T Trebor3418 days ago
W12MODS needs a proper gamepad version. Microswitches are too noisy.
5 DAYS LATER
F FineLerv13 days ago
So what's the verdict? What's the best joystick to use? (Preferably not a controller).
L lroby7413 days ago
FineLerv Surely not his one
I am fine with Lioncast USB (and PSX Plug) arcade stick (directions are on microswitches but buttons not)
T THEC6413 days ago
The only joystick we can recommend is our own one of course, but various joysticks and joypads do work with the mini, there is also a lot of talk and discussion by fans in the fan Facebook group, with various ones mentioned that people have had working and they like using also.
FineLerv replied to this.
C Chickje13 days ago
Are you guys working on making more joysticks compatible?
THEC64 replied to this.
G Gurce13 days ago
I noticed in the Facebook group that someone mentioned a wireless gamepad/game-controller (logitech wireless gamepad f710) that they got working with the c64 mini, so thought I'd share the post here: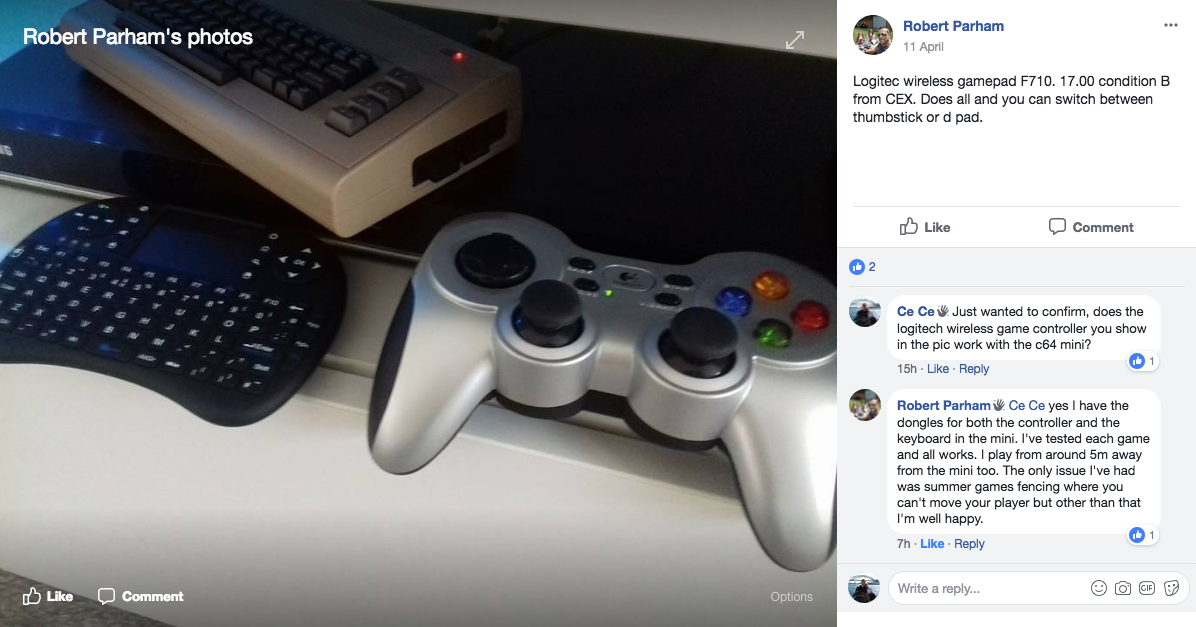 Banjo likes this.
T THEC6413 days ago
Chickje lots of joysticks and joypads do work just not all are mapped key wise to work but we are looking at more options yes 👍
Chickje, HeavyDuty, and Gurce like this.
Chickje replied to this.
MIK13 days ago
Thanks for sharing as I don't do Facebay or twittube ect.
Banjo, Parcival, FineLerv, and Goclastninja like this.
C Chickje13 days ago
THEC64 Thanks guys! Much appreciated. Love the little machine
THEC64, FineLerv, and Goclastninja like this.
F FineLerv12 days ago
THEC64 Unfortunately it doesn't seem available in Australia from anywhere.
Banjo likes this.
T ThomasC6412 days ago
Did someone tried a joystick like this?
An Arcade Stick with USB.
m.banggood.com/de/Fighting-Stick-Arcade-Joystick-Street-Fighter-Game-Controller-For-Android-PC-PS3-p-1208183.html?rmmds=detail-bottom-alsolike
Darbyram12 days ago
ThomasC64 If it has a zero delay encoder inside then it wont work. i have one that i made, left and right don't work correctly.
T ThomasC6412 days agoEdited
Darbyram What is a Zero delay encoder? Sorry, I never used Arcade joysticks.
Darbyram12 days ago
one of these.
here
T ThomasC6412 days ago
Darbyram Thank you. I think this one has it
T TheDead11 days ago
PS4 works but with an odd quirk, the start button fires twice with each press so it jumps straight to save/load so I can't exit game or access virtual keyboard, also left and right doesn't work when on the save/load section but works again as soon as I go back.
Goclastninja likes this.
rgvirdis10 days ago
chris1981 same here, it works perfectly
spinal9 days ago
mayflash style wiiu usb adapter doesn't work, neither does 8-bitdo bluetooth receiver.
Lars65108 days ago
CSL Wireless Gamepad for Playstation 3 and PC doesn't work in either PS3 or XBOX360 mode.
C C64-Fan8 days agoEdited
Hi,
I bought the "Competition Pro USB KOKA Exclusive Edition" Joystick.
koka-shop.de/competition-pro-usb-koka-exclusive-edition.html?gclid=EAIaIQobChMIvdvnoY7C2gIVUkkZCh1MXgo3EAAYAiAAEgKZC_D_BwE
Unfirtunatelly it does not work.
Is there a chance, that more models will work with the next firmware update?
mrrockitt likes this.
mrrockitt replied to this.
countermeasure8 days agoEdited
chris1981
Here's the same item on the US Amazon site, for $14.99 (ASIN # B01N48L71I) for those of us in the US

ibb.co/bVbF2S
www.amazon.com/Controller-iNNEXT-Classic-Raspberry-Multicolored/dp/B01N48L71I/ref=as_sl_pc_tf_til?tag=_&linkCode=w00&linkId=&creativeASIN=B01N48L71I
Goclastninja replied to this.
spd19756 days ago
chris1981 Also, using these... 2 in the box.
mrrockitt6 days ago
C64-Fan I have the same, reeeeally hoping it will work after the next firmware!

T tomxp4116 days ago
That's good to know. I bought a pair of those to use on my PC and Combian emulators. If those can be used instead of that awful joystick packed with the Mini....
Goclastninja6 days ago
countermeasure dont like using a directional pad for 64 games too awkward you defo need a stick or a pad with an analogue nub or something,always hated the snes pad it sucked tramps balls imo,best pad ever is the ps4 duelshock feels awesome to hold and urinates on any xbox pad and I loved the 360 one but sony nailed it with the ds4,hope next firmware update enables proper support for it, p.s god of war is fcuking amazing,im blown away so far only a couple of hours into it