Post by spannernick on Dec 14, 2019 14:29:18 GMT
I thought I add THEC64 Mini too so its all in one post.. and you know where it came from so some history ...

It might have some images missing cause I use Cloudinary and ran out of space then they suspend your account so all your images get removed, so I need to re add them.
About RGL and THEC64...
-----------------------------
THEC64 Mini/Maxi/VIC20 was designed by
RGL
(
Retro Games LTD
) and manufactured by
KM
(
Koch Media UK & Ireland
).
Retro Games LTD
--------------------
Paul Andrews
CEO
Chris Smith
CTO
Darren Melbourne
CEO
Paul Gouge CEO
Darren Melbourne and
Paul Gouge
were Ironstone Partners that designed the C64 DTV in 2004
(that's where the design of THEC64 Joystick came from and why some of the games are the same)
Chris Smith built and designed the Carousel and the C64 emulator, if you look at the source code C64OSS you see it says "Copyright 2017
Chris Smith
", any update that is made for THEC64 Mini/Maxi and THEVIC20 is built by him, he is a experienced technical architect, software and hardware engineer, product designer.
Chris wrote a book about the inner workings of The ZX Spectrum:
The ZX Spectrum Ula
This is Chris Smith at the Sinclair ZX Spectrum - 30th Anniversary - Hardware panel talk, he's sitting on the left.
RGL Address: 166 The Mall, Luton, England, LU1 2TL
THEC64 Mini is like the C64 DTV but in a 50% scale replica of the C64 Breadbin, not in a Joystick.
Adverts for THEC64 Mini
About THEC64 Mini
----------------------
THEC64 Mini is based on A20-OLINUXINO-LIME that Chris Smith used to develop the C64 emulator(from VICE 2.4) and then designed the Carousel on and around the C64 Emulator, was originally going to be called THE64, was put on
Indiegogo
in April 2016 and took 2 years to develop and was release on 28th March 2018 in Europe(the PAL version) and 9th October 2018 in the US(the NTSC version) It got bad reviews at first but got better in time(it was the only machine that provides updates to its firmware) cause it could only could load one disk image at a time and had no keyboard so the case was cosmetic only, most the games are the same games from the C64 DTV, there was some that were OK like Pitstop 2(it gives you a arm ache trying to go rounds the corners of the track) and Jumpman.
If you look at THEC64 Mini, it like a direct copy of the C64 DTV,(you could call it the next version of the C64 DTV, cause it is a device that plugs into your TV, it is a C64 Direct to TV,) just its logic board is not in the Joystick, its in a Mini Case of the C64 Breadbin, its joystick is identical but don't have the little reset button, Darren Melbourne has the design rights to the C64 DTV, most users who bought a C64 DTV did not use its joystick, they used a db9 connector that was soldered to its logic board in the joystick, so used there own joystick that they would use on there original C64.(I even did it..

)
Orange PI H3
(what THEC64 Maxi is based on)
can run Android 4.4(Jellybean) like the Olinuxino A20 lime can(what THEC64 Mini is based on) so that why THEC64 Mini and Maxi can use a Android kernal, the boards can run it.
And both boards are open source too (OSHW).
THEC64 Mini in Argos Catalogue 2019
THEC64 Red Joystick that came with theC64 Mini was prone to snapping off, it tool KM 4 different designs(4 Joysticks) to get it right...

they learned more with every redesign.
THEC64 Mini was only made to make money so KM could manufacture THEC64 Maxi, because RGL were obligated to do cause of the Indiegogo campaign, THEC64 Mini was a Prototype for THEC64 Maxi and to improve on its design.
THEC64 Mini Red Joystick on the back left and C64 DTV on the back right, THEC64 Micro Switch Joystick in front.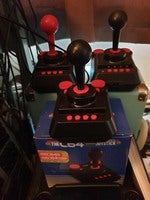 There was going to be included a Handheld version of THE64 but that was dropped and cancelled and replaced with THEC64 Mini, each backer got THEC64 Mini too and then later on got THEC64 Maxi.
THEC64 Mini was made to raise money for the Indiegogo Campaign and to be able to build THEC64 Maxi and to prove to KM that they could design it, KM built and distributed it and all the other machines RGL designs(THEVIC20), KM is RGLs partner cause they needed a manufacture(like C64 DTV needed Mammoth Toys to build it with Ironstone Partners, to build it in bulk) to make it and cause they never got funded on Indiegogo they needed a partner who had the means to build in mass production and take the financial risk.
TheC64 Emulator(x64sc,VICE) running on a A20-OLINUXINO-LIME
First Show of THEC64 Mini at MGW(Milan Games Week) in 2017.
Been shown running on a A20-OLINUXINO-LIME with a prototype model of the THEC64 Mini,
uses only played the THEC64 Mini Carousel with a SNES controller,
users did not know what THEC64 Joystick was like then cause it was just a model.
THEC64 Mini Specifications and First version of THEC64 Mini Board for retail.
SoC Allwinner A20 @ 1ghz Arm CPU.
DRAM 256 DDR Memory,
Nanya Technology Corporation, DDR DRAM, 128MX16, 0.225ns, CMOS, PBGA96, Number on the IC.. nt5cb128m16fp-di
- www.datasheets360.com/part/detail/nt5cb128m16fp-di/7251930131555224175/
NAND 1 or 2GB (nanda - Android image based on Allwinner 3.4.39 kernel, 4.3 Jellybean ~16MB, nandb Buildroot 2016 ~186MB, rest of the space on the nand is not used)
Power DC 5V @ 1A
(Right click on pictures and click on "Open image in new tab" to see a closeup)

A20-OLINUXINO-LIME
The first prototype of THEC64 Mini Board
This is the first version of the board and it's the PAL Version with the Toshiba nand IC on it, with the hold under it's label underneath it.
Final version of THEC64 Mini's board, the US NTSC version, it has a ATO Nand IC, bottom right near to the A20 SoC IC in the middle, heatsink on top of it, first model I have seen with a heatsink, its probably why THEC64 Maxi board has a heatsink too.
more info here...
linux-sunxi.org/Retro_Games_Ltd_RGL001
and here...
www.c64-wiki.com/wiki/THEC64Mini
------------------------------------------------------------------------------------------------------------------------------------------------------------------------------------------------
About THEC64/VIC20/Capcom Home Arcade
--------------------------------------------------
A mock up picture I made so it looks like your looking through the heatsink to see the H3 SoC Chip on the CHA PCB Board...

Capcom Home Arcade(CHA) uses a PCB board inside it that is based on THEC64 Mini, it has a H3 SoC instead of the A20 SoC thats being upgraded with more memory 512mb and a MMC IC that has replaced the NAND and a onboard WIFI Network Card.
Specs are the same as a Orange Pi One H3, Orange PI PC H3(that has 1GB Ram) or H3-OLinuXino-NANO.
THEC64 Maxi uses the same PCB board as the CHA, but with 256MB ram and no wifi and the same NAND IC as THEC64 Mini so it can run the same firmware as THEC64 Mini.
I always thought that the CHA PCB Board was a copy of THEC64 Maxi PCB Board but I was wrong, it the other way round..

Capcom Home Arcade was created by Ben Jones in January 2018...
"Twas a hot, humid afternoon in a dusty busy factory somewhere in Dongguan China in January 2018. The noise and bussle of thousands of C64 minis being assembled was whipping me up into a frenzy of excitement. I wanted more of this feeling.
What else could we bring out I asked the factory boss, he proceeded to fill the table with every console made in the 80s and 90s, Megadrives, Dreamcasts, Pc engines, Nes, Snes, Neo Geos, all different region variants and oddities, I was getting real pumped up, we can do it all I thought! One thing stood out though - a pandoras box sitting there like the odd one out. Straight away I thought about arcade manufacturers like Capcom never made a home console (If we disregard the CPS Changer). I reminisced about all the fun times I'd had playing 1942, Street Fighter 2, Golden Axe back in the day at my local social club.
I couldn't stop thinking about it for the rest of the trip and particularly whether my memories of how great the gameplay and general experience of those arcade games was being seen through rose tinted spectacles. So I got home and ordered a pandoras box, it arrived and played 1944 and BAM! I realised that feeling was exactly what I felt as a teenager, the games were just as eye poppingly gorgeous with intense gameplay that required real skill and concentration from the start of level 1.
I did more research on particular arcade game catalogues, which consisted of playing arcade game all day for many weeks and by far I considered Capcoms CPS era to be the most attractive in terms of consistence of quality and of course it had Street Fighter 2 as the jewel in the crown.
So how would I deliver this idea, I checked out CPS changer, Capcom Power Stick Fighter, Mini Cute and Q25 cabs, all of them nice and feasible. But then I noticed that the Capcom logo was roughly the same dimensions of the Pandoras box sitting in front of me. So I just photo shopped the logo onto a photo of the Pandoras box and it fit. I then added a gausian blur around the edges of the logo'd Pandora image to give it a shadow and by accident filled in the shadow by mistake - it then dawned on me that looked like an awesome base to the machine.
And the rest is history."
Ben Jones - Koch Media UK.
THEVIC20 will have the same specs cause its really THEC64 Maxi in the VIC-20 First Edition white or Ivory Breadbin case, THEC64 Limited Edition, the Carousel has been changed from Blue to Purple, it has C64/VIC20 games included(its not RGL's fault what games comes with the machines, it down to if they can get the copyright to that game to include it, only about 26 VIC-20 games included and the rest are C64 games.
I understand why RGL building it, they added the Vic 20 mode to THEC64 Maxi probably to see if anyone liked it as a test to see if THE VIC 20 was a good idea to build.
I have THEVIC20 and THEC64 Mini, I bought THEC64 Mini to support RGL cause they didn't get funded on Indiegogo, I think the machines are great and makes it easier to use, no need for other devices connected to it like a 1541 Disk Drive or Datasette(Commodore Tape Deck), it's a All In One Machine...

and easier to transport or move, all you need it the Machine and a USB Stick.
This would of not been possible 10 years ago, until the Raspberry PI was indented in 2012, we have a lot to thank the Raspberry PI for now, cause alot of things we have now is because of the RPI and Linux.
Koch Media used the same design from THEC64 Maxi Logic board and added more memory and WIFI board to it, THEC64 Maxi Logic board don't have these and can not be add to it's logic board.
SoC: System on a Chip..
en.wikipedia.org/wiki/System_on_a_chip
CPU: Maxi/Vic20/CHA
Allwinner H3 Quad-core Cortex-A7 @1.296GHz and
GPU:
Mali400MP2 GPU @600mhz(like the graphics card in a PC, SoC CPU and GPU in one chip on top of each other like on a RPI like they are piggybacking.)

RAM: Maxi/Vic20
256MB Memory datasheetspdf.com/datasheet/NT5CB128M16FP.html
NAND: Maxi/Vic20
2GB Fidelix
FMND2G08U3J
printed on NAND Chip but Hynix HY27UF082G2B ID in nand_rw program.
Picture of the CHA logic board with the Allwinner SoC H3 with no heatsink and H3 clearly seen on the chip, THEC64 Maxi logic board is the same.
It has a heatsink on it because the H3 can get hot very quickly, It's rated to run at 1.296GHz, anything higher is overclocking (and usually overvolting). If you run it without heatsink, fan and proper dvfs settings, you risk overheating.
And it probably overclocked on the CHA board to run the emulator better so needs a heatsink too get rid of the heat or you will start getting crashes or lockups.
You can see THEC64 Maxi/CHA Logic Board was built with the same design that THEC64 Mini's Logic Board uses, they are both the same size, it has markings on the left side of the board for 2 USB ports and a Power button, it even has the hole in the board, top right if board is upside down, top left if board facing up, where one of the screw posts goes through it on THEC64 Mini's top part of the case to screw the case together, you could fit the maxi board into THEC64 Mini's case, if you soldered 2 USB Ports and a power button on the board, it should work in it too but might have to test the USB Ports first to see if they work and not missing any resistors and that, you would need to cut a hole in the back on THEC64 Mini's case for the other USB port on the board too.
The Picture below shows THEC64 Maxi PCB board above and THEC64 Mini PCB board below and are both exactly the same size in width and length and has the same screw holes, they have the same PCB footprint.
The screw holes are in the exactly the same place too, they replaced the sd card slot on THEC64 Mini PCB for a USB port on THEC64 Maxi PCB for USB OTG.
The CHA PCB was manufactured first cause its a copy of THEC64 Mini PCB just has a different SoC, that why it has V01 on it, then the CHA board design was used on THEC64 Maxi.
You can put the C64 Maxi PCB in THEC64 Mini Case and would be able to use the Keyboard Mod for THEC64 Mini with it... :0
Here is a picture of THEC64 Maxi PCB in THEC64 Mini Case, it fits exactly as if it was built for it...

It even has a connector, bottom left for the FEL Button that came with the first version of THEC64 Mini.
USB HUB PCB on the right side on the case that connects to the the main board and then to the keyboard.
The Keyboard: Keyrah V2...
wiki.icomp.de/wiki/Keyrah_V2
Its based on the Keyrah V2, it uses the same keymap for Windows (Switch normal) on the Keyrah V2 but they have just moved the keys around so there are not all in the same place but most of them are (like CTRL is LEFTCTRL) and if you mod it, it can be used on a PC(the Keyrah V2 can), if you wire it up to a USB
Male
connector, it can be used with VICE on a PC or on the RPI3 but would need to remap the VKM file inside VICE so it keys would work properly.
If you look at THEC64 Maxi Keyboard with evtest and then looked at the Keyrah V2 they use the same keys but some have been remapped so like the RESTORE Key is KEY_TAB (and on the Keyrah V2 its KEY-PAGEUP) to make it work like a windows keyboard so if you plug in a usb keyboard in to THEC64 Maxi it would match the keys on it.
THEC64 Maxi Keyboard Mapping is here...
thec64community.online/thread/688/c64-keyboard-mapping
Power supply:
5V 2A or 3A(Sometimes it has the wrong type of power adapter in it box with THEC64 MAXi/THE VIC 20, its best if you use a 5V 3A with it like the Orange PI PC board uses and stops THEC64 Maxi crashing randomly and the more devices you add to it(Joysticks, USB Stick) the more amps it uses.
USB..
It does not use an internal USB hub therefore the 4 available USB ports don't have to share bandwidth.
THEC64 Maxi was built by Koch Media and designed by Retro Games LTD.
THEC64 Maxi board build date was 23.08.2019 and Capcom Home Arcade board build date was 30.07.2019, the Capcom Home Arcade board was made first and has a one month gap between each other.
Capcom Home Arcade board
----------------------------------
It has different NAND and RAM chips only..
NAND:
Kingston EMMCO4G-M627 and is
4GB in size.
RAM:
Memolink ML5TQ4G16CFR 4G= 4Gigabit = 512MB.
WiFi:
RealTek 8188eu for Network for downloading updates and for updating Scoreboard from the games the user plays, cool idea..

.

You can fit a SD card slot on its board, the CHA in Germany come with a SD Card Slot fitted already.
The Boards nickname is the Orange PI board, it a copy of the Xunlong Orange Pi PC board, the board is open source... linux-sunxi.org/Xunlong_Orange_Pi_PC
Here is the Orange Pi PC Schematics 1.2.. drive.google.com/file/d/0BwQT0FP7IkTbRFJQamNwWTAzWms/view

The Capcom Home Arcade has a USB Board in side it, it connects to the joysticks and buttons and then connects to the CHA Board, it uses the same USB chips from THEC64 MS Joystick
"GH001"(Game Hub 001) IC,
CHA has 8 buttons and one stick for one player and for two player, the same, THEC64 MS Joystick has one stick and 8 buttons too - 2 fire's, 2 triangle buttons and 4 buttons for A B C and Menu, TheC64 MS Joystick works on the CHA all buttons work but there are just in the wrong place, That why it works on the CHA, it shears components with THEC64 Maxi and cause it made by Koch Media that manufactured THEC64 Mini/Maxi and THEVic20.
CHA USB Board with "GH001" USB IC
it has 4 compactors on it for each IC, there on the left side of the ICs and above the IC on THEC64 Microswitch Joysticks "GH001" IC, look at its pictures below.
THEC64 Micro Switch Joystick and you can see "GH001" IC, it has 4 compactors on it, they are above the IC.(Named C1, C2, C3, C4)
"GH001" USB Chip is the original chip that's in the Pre order
THEC64 Mini
(Released on March 28 2018 in EU and October 9 2018 in USA), THEC64 Red Stick Joystick that came with it, the first version of the THEC64 Red Stick Joystick works with Capcom Home Arcade where the second version of the joystick where it has the chip in the middle of the board, does not work with Capcom Home Arcade.
I have a Pre order THEC64 Mini with the original Red Stick Joystick, and the second version of that joystick and a THEC64 Micro Switch Joystick I tested on Capcom Home Arcade.
One thing I have noticed is if you are moving a character on the screen with the stick, in a game and press one of the button to punch or kick then you can't move the character with the stick on Capcom Home Arcade with THEC64 Red Stick Joystick or with the THEC64 Micro Switch Joystick, once you stop pressing the button then you can move again using the stick.
THEC64 Maxi Logic Board Pictures...
-------------------------------------------
Top
-----
Bottom
---------
Keyboard
-----------
Connectors
USB Hub Board
-------------------
Top
It does have a code on it "E320008" that is on the Rock64 board but that maybe just a coincidence..

THEC64 Maxi has 256MB memory and CHA board has 512 memory.
The Orange Pi PC H3
------------------------
The Orange Pi PC H3 is a Chinese development board, a bit like a RPI3, or 4 or a Cubleboard 3 or 4, the Orange PI A20 board can use Cubleboard 2 images too.
(Orange Pi, Raspberry Pi, they saw how many RPi's were being sold and wanted a piece of the PIE..

)
THEC64 MAXI firmware can run on the Orange Pi PC H3 fine.. (Thanks Jerome(jj0) for the picture, he can work anything out...wow)
It's the closest you get to how the CHA mainboard
works
in THEC64 MAXi, it was exactly the same.
TheC64 Maxi board and CHA board are based on
Xunlong Orange Pi PC
linux-sunxi.org/Xunlong_Orange_Pi_PC

CHA users even call the CHA board the Orange PI board.
Orange Pi PC H3 Specs and detailed pictures.
-----------------------------------------------------
Hardware specification
CPU:H3 Quad-core Cortex-A7 H.265/HEVC 4K
GPU:
·Mali400MP2 GPU @600mhz
·Supports OpenGL ES 2.0
Memory (SDRAM) :1GB DDR3 (shared with GPU)
Onboard Storage:TF card (Max. 64GB) / MMC card slot
Onboard Network:10/100 Ethernet RJ45
Video Input:A CSI input connector Camera:
Supports 8-bit YUV422 CMOS sensor interface
Supports CCIR656 protocol for NTSC and PAL
Supports SM pixel camera sensor
Supports video capture solution up to
[email protected]
Audio Input:MIC
Video Outputs:Supports HDMI output with HDCP,Supports HDMI CEC,
Supports HDMI 30 function,Integrated CVBS,Supports simultaneous output of HDMI and CVBS
Audio Output:3.5 mm Jack and HDMI
Power Source:DC input, USB OTG input don't supply power
USB 2.0 Ports:Three USB 2.0 HOST, one USB 2.0 OTG
Buttons:Power Button
Low-level peripherals:40 Pins Header,compatible with Raspberry Pi B+ GPIO(1x3) pin:UART,ground.
LED:Power led & Status led
Key:IR input,POWER
Supported OS:Android Lubuntu, Debian, Rasberry Pi Image
Interface definition
Product size 85mm × 55mm
Weight 38g
Power supply 5V 3A
Operating Temperature -10 ~ 65℃